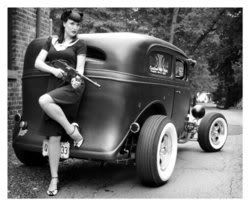 1) Writing and Cussing: Ugh, why is writing the first sentence always so hard? Ok, well I guess I wrote it now and the words should be flowing now! Maybe I have Blogger's Block…. or could it be ADHD? Should I go get tested? Umm, where was I going with al this? Oh yeah… I think I have all this important stuff jumbled up in my little head and they are so not playing nice with each other! Damn them!
2) Smart as a Brick? First things first, working at a large aircraft company seems to be a pretty cool sounding job right? With an abundance of brilliant people right? Now don't get me wrong, there are some really intelligent people here but most have very little common sense or tact. A guy can build an airplane but can't make a copy, which scares me just a little bit. It just is not nice to treat people like they are beneath them. I don't care if you are VP or the guy you empties the trash we all have to work together! UGH, ok now that is out… on to the next…
3) As the Gulfstream Turns: The other day our IT dept or what we call "the internet Nazis" put a new block on our daily visits to the local County Sheriff dept website. It seems that we (as a company in whole) have nothing to do but check the website daily to see who we know that had been arrested the prior night and spread it as fast as we can. I am guilty of this little bit of pleasure, which is a little embarrassing on my part! All I know is to never get arrested in this town, actually never do anything that could be used against you in this town cause word spreads faster than peanut butter on toast! Anyhoo(I really hate when I use that word) there is the ADHD at work, So I guess when the last girl at our work was put in the slammer for Terrorist Treats and acts, "the man" decided that something needed to be done to the gossip train. I mean talking about taking all the joy out of our day! What the heck will we do now? Work?
4) We giveth but you have to giveth 5 dollars: So now it seems I have an interview tomorrow. Am I getting a new job? Well no, not exactly. I have to actually interview for my promotion! What kind of bullcrap is that?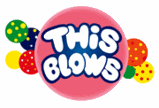 5) There is Terror in S-Town: Speaking of stupid people and terroristic threats… this is nice, they had a big crackdown at our local family entertainment place… here is the best part:
From the Savannah News:
15-year-old was charged with terroristic threats after he confronted a police officer.

"The officer was trying to prevent him from attacking a child and he said, '... don't touch me. I'll kill you. I don't care if you're the police, I'll bust a cap in your a-,'
At least it seems he had great grammar.
6) Its all about the Ska: I've got some exciting news! Oh yes, Aug 6th Dropkick Murphys is coming to Savannah! Finally some good music in this town.
Dropkick Murphys_beer_beer_beer
7) What a lovely Asshole: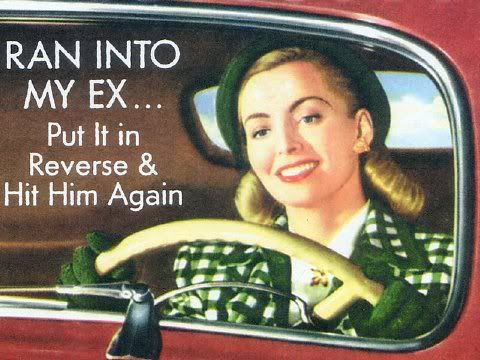 8) The 5th reason girls are dumb: Wearing 5" heels on a day that is so hot even this southern girl is complaining is a really bad idea especially when I have to walk about half mile to my car! Today is a total flats day. What do I care if my ass is perky?
9) Cats, Men and PBR: I believe that I will end up marring my cat! Hey, they could have some kind of special pill in the future you never know. I mean who knows what is going on with Ashley and me, he won't grow up long enough to talk about me which I know is a shock! I mean there are guys out there but I think instead of telling them I'm not into them I try to make them not want to date me, it has become a little bit of a game for me. Its actually pretty hard ! I mean I tell them I'm tattooed, been in rehab, like punk music, love going to the local hole in the wall bar in my jeans/t-shirt and drinking PBR in a can. Oh yeah I left out I can burp the alphabet… ok I'm kidding on that one, well I can but I don't do it anymore! I just don't seem into the guys down here, for too country-fried for me. I mean they are good to go out for some fun but to date? No way!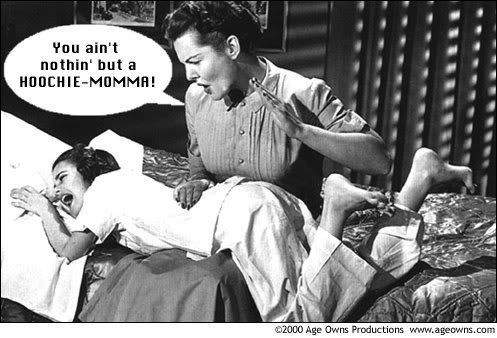 10) Knitting? Who me? So, I've picked up the needles again! This time I'm telling myself that I have to actually finish something (this is where the ADHD comes back into play from #1) and I'll be back into the grove… well I have a million excuses, along with the 9 above to give ya but the truth is I'm a little on the pissy side lately and if I mess up I'm going to end of stabbing my eyes out. Oh an extra one….
Ok, I know this is doctored but Sid was just cool!
11) Digging for Gold: Oh well guess what my baby is doing in my bag? He is hunting for hair bands! This little bandit steals all of them and when I go to put my hair up I end up searching the whole house for just one. What a cute little brat.
12) The Vatican issued a set of "Ten Commandments" for drivers: Yes the Catholic Church has now given us "rules" of driving. Now, I can think of much more effective commandments than what the Church can come up with! Check it out! The Driving Ten Commandments!!!!
Here is a couple of cute little baby pics...
This is what its all about... well until the brawl starts!
The normal "Rufus pose"